Welcome to the website of Dr. Neil F. Comins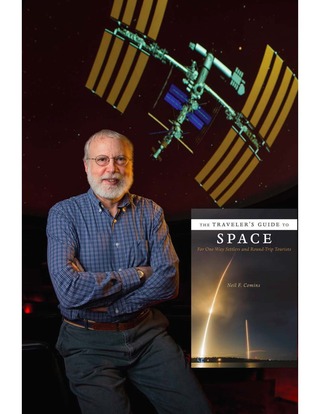 I am an astrophysicist, astronomer, professor of physics and astronomy at the University of Maine, author of at least 21 published books on astronomy and space (many more according to the Amazon web site), and public speaker. I have "appeared" on over a hundred radio shows aired around the world, as well as numerous television shows.
Over half a million copies of his books have been sold world wide.
My first book, "What if the Moon Didn't Exist: Voyages to Earth's That Might Have Been", has been made into radio, TV, and planetarium shows. It was also the theme of the Mitsubishi pavillion at the World Expo in Aishi, Japan in 2005 and is now a show at the "Huis Ten Bosch" resort near Nagasaki, Japan.

My work, "Heavenly Errors", explores common misconceptions about astronomy, their origins, and how I have helped thousands of students face and replace them.

The Hazards of Space Travel: A Tourist's Guide and The Traveler's Guide to Space are written to give everyone, potential space traveler or not, an awareness of the dangers that people face in space. I hope that they will help make people "informed consumers."

I write and revise a best-selling textbook on astronomy, Discovering the Universe" This book has been used by students at over five hundred universities, colleges, and high schools around the world.
I am available for speaking engagements. Rates available upon request (contact galaxy@maine.edu).